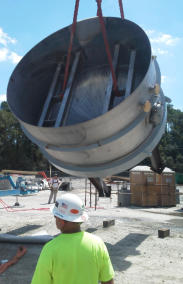 Since 1972 SERF has provided a unique service to our customers for Mechanical Forensic Engineering analysis to determine
the cause of failures for all types of mechanical products used in the Manufacturing, Chemical and Petroleum Plants,
Automotive, Machinery, Marine and Building Construction industries.
SERF analysis are performed using proven technology based upon our experience, code standards, and include scientific
and analytical analysis. The ability as experienced engineers allows us to look at a product that has failed and know where
and how loads are applied to focus upon the failure and the modes of failure of the product. These type of failures most often
lead to the following areas of discovery:
Manufacturing and Design
High Stresses
Low fatigue life
Extreme temperature
Unqualified designers and welders
Quality problems in material selections
Manufacturing errors in welding design
Operational Abuse
Misuse from overload
Capacity Increases without design change
Maintenance Deficiencies
Lack of Inspection and NDT
Poor maintenance during operation
Inattentive operation
Life Analysis Evaluation
The equipment has lived it useful life
SERF offers our engineering staff for inspection services for a host of mechanical systems and components primarily for
the performance of the following scope of work:
•
Follow-up repair services required
•
Cost evaluation of necessary repairs
•
Life analysis and prediction
•
ASME Code compliance
•
Forensic Failure analysis






Points of Inspection for Analysis and Repair Procedures
SERF engineers have the training and experience to inspect a product that has failed and apply known engineering
principals to:
These five steps allows us to make the best repair for our customers' requirements.
•
Determine how the product failed
•
Apply design standards to analyze the product
•
Investigate the manufacturing procedures utilized in production
•
Review the products quality control and service history
•
Determine the testing standards required to assure a successful repair
Deficient design in motor trans-axial frame
Spring loading design for large dump truck
Thermo-Flight Screw failure
Stub Shaft Overload failure
Trailer Hitch Failure
Crane Hook Roller failure
Fiberglass tank failure
Failure Analysis Studies Provided (typical) to our Clients
SERF engineers have provided this unique service for many of the following mechanical applications some of
which have been challenged in the legal arena.
Spot Welding in Automotive frame
Heat affected zone of welds
Weld joint deletion
Weld and cracking problems
Fatigue failure and cracking
Dynamic loading and failure
Thrust loading for pipe hangers
Engineering, Inspection and Analysis
Since 1974 SERF has been an EPC Skid manufacturer for mechanical systems used in the process and material handling
equipment for major industries and our military services. We also assist A/E firms in their EPC plant services.
After 1984 we transformed this service to include in plant construction for major industrial sites in the US and Canada
nations. We provide the specialized engineering and design drawings complete with component selection and acquisition
service. Our shop production craftsmen fabricate and assemble the skid systems for our customers' specifications and to
ASME, TEMA, API and other standards of manufacture for their industry. We also test the completed components and
systems as required prior to shipment to the job site.